Mario Canonge is a pianist from Martinique F.W.I. He starts playing in his teen years and accompanies the church choir at Francois Church in Martinique. In1979, he starts studying music in Paris and takes part in several bands. In the early 80s, he mainly plays Latin music, notably with Manigua, before forming along with Nguyen Lê, Ultramarine, a jazz-rock-fusion band. Very much inspired by the two most famous Caribbean pianists, Marius Cultier and Alain Jean-Marie, he quickly wins recognition for his talent and starts being quite much in demand (Lavelle, Dee Dee Bridgewater, Nicole Croisille, Ralph Thamar, as well as Carter Jefferson, Chico, Freeman, Turk Mauro, Simon Spang-Hanssen…).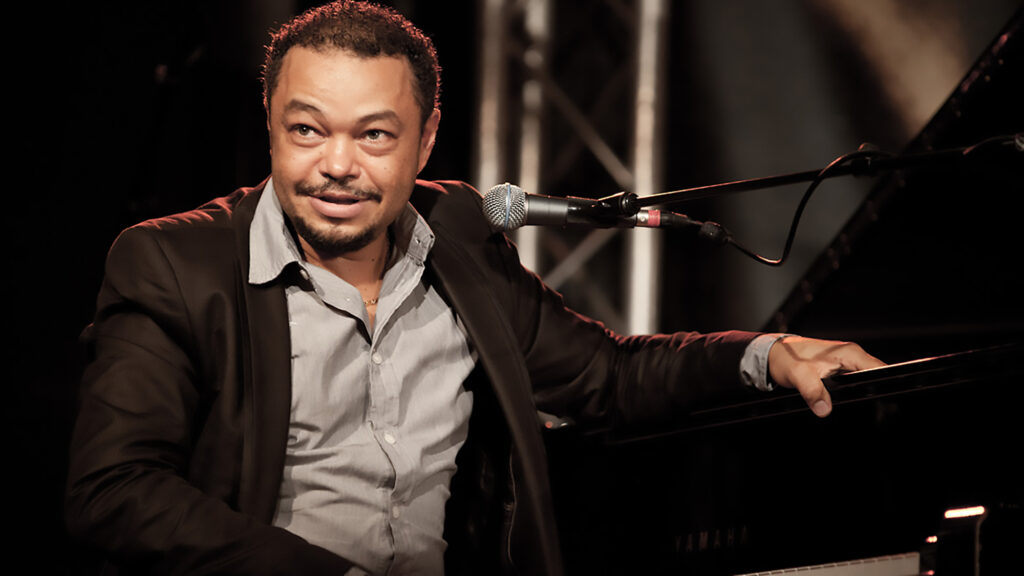 He also forms Sakiyo with Michel Alibo and starts a solo career with « Retour aux sources » in 1991. It is a turning point in his career which leads him to go back to his roots and its music, mazurka and beguine, mixed with jazz and zouk. With his group Kann' he performs a lot, thus reaching a vast public from the F.W.I and Metropolitan France. For several years the quartet plays overseas as Mario keeps on playing with other artists as well (Kassav, Malavoi…) and recording in studios all styles of Caribbean music for Beethova Obas, Michel Jonasz, Laurent Voulzy…
In 2002, Mario creates Sakésho with Andy Narell, Michel Alibo and Jean-Philippe Fanfant. The group releases two CDs and a DVD and takes part in many festivals. When he is not on the road, he enjoys playing with his old friend Etienne Mbappé, as well as Richard Bona, Gino Sitson, Manu Dibango whose African influences keep on broadening his already wide spectrum.
In 2004, new inspiration with a jazzy but yet Caribbean sound on his latest album Rhizome. Jacques Schwarz-Bart, Antonio Sanchez and Roy Hargrove also take part in this journey and a year round Pan American tour starts with Horacio "El Negro" Hernandez. In 2008, Mario releases a "live" album with Linley Marthe and Chander Sardjoe and takes Rhizome back on many tours around the world. Other projects see the light, like for instance a piano and double bass duo Mario creates with Michel Zenino, or a piano duo with Alain Jean-Marie. Meanwhile, Mario also accompanies singers like Tangora, and Viviane Ginapé.
In 2011, Mario Canonge releases "mitan", a jazz album welcomed by the critics. At this point "mitan" is not only the title of his album, it is the "half-time" of his life. "The beginning of a new adventure, led by a desire to look forward, to grow and always evolve, a desire to reach and, with my own fingers, lightly touch the essence." During the course of the summer, Mario and Michel Zenino play at Jazz à Porquerolles. The concert is filmed and is the base of a DVD released early 2013.
By the end of the year, Mario plays on Dominica's guitarist Cameron Pierre album, "Radio Jumbo". He then meets Courtney PineThis who called him to play on "House of Legends" released late 2012. This period sees also the birth of a new promising trio, CAB, with Blick Bassy, a Cameroonian singer, and Adriano Tenorio DD, a young Brasilian percussionist. The band is touring on a regular basis and prepares an album to be released in 2014.
For the past few years, Mario has been in quasi-permanent residence at Le Baiser Salé, with double bassist Michel Zenino. Every Wednesday, they revisit the standards of the repertoire as a duo. Sometimes, the formula increases with brass instruments during concerts. Finally, in 2018, the two friends produce the album Quint'Up, which pays tribute to this concept, with the help of Arnaud Dolmen (drums), Josiah Woodson (tp, fl) and Ricardo Izquierdo (sax). In this prolific year, Mario is back in the fall with Zouk Out, a new concept album which, as its name suggests, fuses jazz and zouk in a delightful opus which also features Ralph Thamar, Annick Tangorra, Ralph Lavital etc. Zouk Out also contains a track sung by Erik Pédurand. It is on this occasion that the two men met. The meeting works and takes shape during a residency that gives birth to a brand new duo record, Kapital, which is released in October 2020.