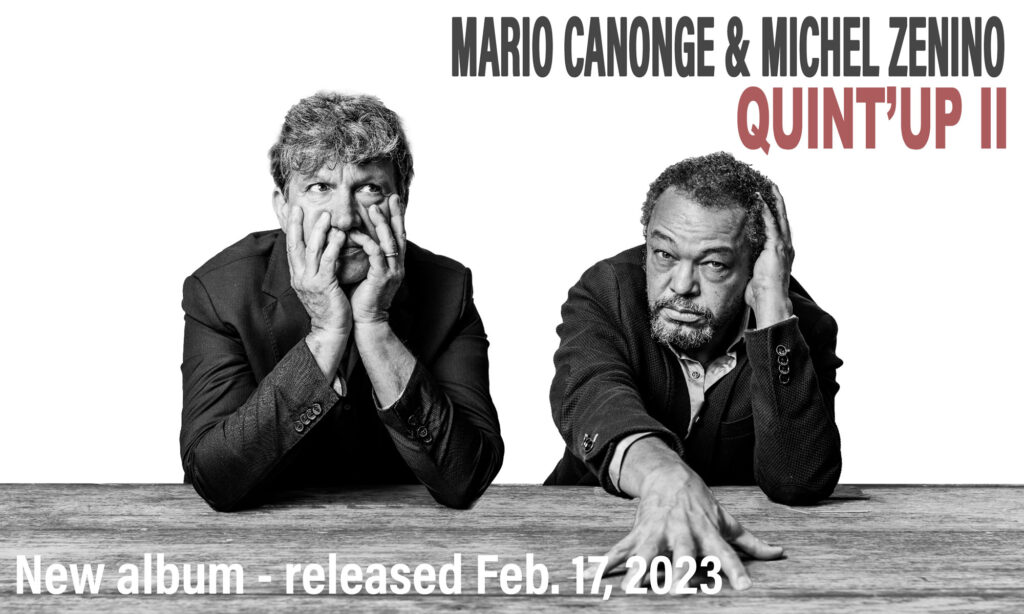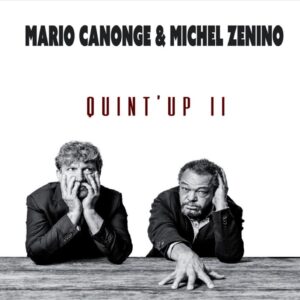 Mario Canonge and Michel Zenino like to take on challenges, and their first album together, Quint'Up, released in 2017, was a product of that spirit. They had started playing as a duo around jazz standards in 2008, at le Baiser Salé every Wednesday at 7:30 p.m., an uncommon time for jazz clubs. After a decade, they decided to test their chemistry by creating a quintet with the best of the new generation of musicians, forming Quint'Up.
Mario Canonge :« We have, I believe, succeeded in making the good synthesis between the current jazz musics and the new Caribbean fusions which gather the Latin music, of the Antilles and with this way of playing of the young generation of musicians, all that goes in the same direction. »
Michel Zenino :« It is a multicultural group since Arnaud Dolmen (drums, percussion) is from Guadeloupe, Josiah Woodson (flute, trumpet) from the United States, and Ricardo Izquierdo (saxophone) from Cuba. They are fantastic. They blended into the mold from the first concerts and our complicity was communicative, and it is wonderful to exchange with them. »
And Mario added:« … Even the arrangements change according to the concerts and the directions we take. »
Four years after their first album, Quint'Up, a second opus, Quint'Up II, is released today, showing the group's maturity and their musical fusion. The five musicians now form a single entity that transports the audience and the listener in a flow of energy, swing, virtuosity, poetry, grooves and even humor.
Mario Canonge :« Michel and I wrote the first album, imagining our ideal "jazz quintet". On the other hand, "Quint'Up II" was written specifically for Arnaud, Josiah and Ricardo, that changes everything!»
Michel Zenino :« On the first one, Mario and I had played reversed roles, him on hard bop, me on calypso. On the second one, we didn't ask ourselves any questions about the writing. On the other hand, today Josiah, Ricardo and Arnaud (who has just been awarded a Victoire de la Musique) are more and more in demand. Rehearsing is almost impossible. We had to lock ourselves up for four days in April to create the eleven tracks of this album. »
Mario Canonge :« … And we were only able to go into the studio six months later and even then, we only did one take on almost all the songs!»
Michel Zenino :« This group is magic!»
Technical details
Year: 2023
Label / Reference: Aztec Musique
Musicians: Mario Canonge (piano), Michel Zenino (double bass), Josiah Woodson (trumpet, flugelhorn), Ricardo Izquierdo (tenor saxophone), Arnaud Dolmen (dms) + Noé Codjia (trumpet)
Tracks: 1- Pa Plis – 3:01 / 2- KL's Wedding – 4:25 / 3- Mila – 5:12 / 4- Who Cares – 6:48 / 5- Eti Anman – 5:09 / 6- Who Speaks When I Speak – 5:52 / 7- So Fresh – 5:10 / 8- Retoño D'Esperanza – 6:27 / 9- Bad Bagad – 5:13 / 10- Anse Madame – 4:18 / 11- Dog Walk – 4:48
Quint'Up II is available online on the main streaming platforms, and on BandCamp.