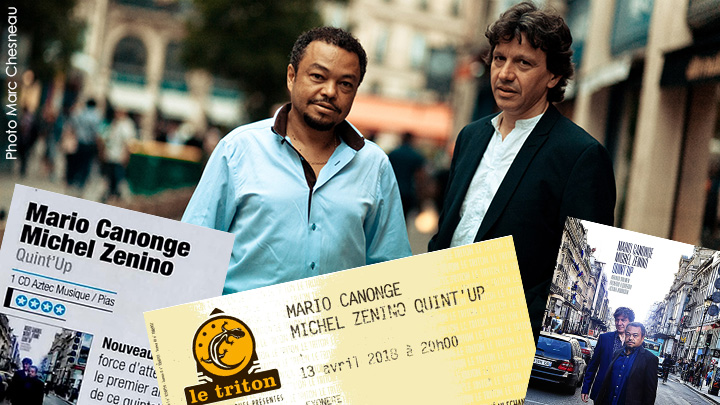 Martinican pianist Mario Canonge and Marseilles double bassist Michel Zenino form an atypical duo that juggles all the standards like balancing musicians in the history of jazz. They have been performing at Le Baiser Salé every Wednesday night for over ten years, and as they are also excellent composers, they wanted to write a repertoire for a jazz quintet, to extend their duo, based on interaction, and a strong musical telepathy, towards an expanded formula in the spirit of the great hard-bop quintets of the 1950-1960s (Jazz Messengers, Cannonbal Adderley, Clifford Brown & Max Roach, Horace Silver… The result is striking, magical, and fluid, as if the music was obvious, because this formidable quintet does not offer us a dusty jazz anchored in the past, but a music of today, powerful, festive, and sensitive, that happily mixes hard-bop and Caribbean music in a crazy creative energy, where melodies, harmonies, and rhythms mix well in the best of worlds. Mario Canonge and Michel Zenino have surrounded themselves with Parisian musicians, but all from the Americas: Cuban saxophonist Ricardo lzquierdo with such a warm sound, US trumpeter (and flutist) Josiah Woodson, whom we don't know very well but who will soon make a name for himself, and the excellent Guadeloupean drummer Amand Dolmen (who has become a fixture on the French jazz scene for several years).
The musical maturity, the care taken with the compositions, the choice of the musicians, and the intense complicity which unites Mario Canonge and Michel Zenino, make of "Quint'Up" a major album, where the pleasure is combined with the exigence. An album that should definitely take Mario Canonge out of the Caribbean ghetto in which he has too often been locked up for him to finally enter the world of great jazzmen, just like Michel Zenino, in that of great composers.
Quint'Up
Year: 2018
Label / Reference : [PIAS] Le label / Aztec Music
Personnel : Mario Canonge (pno), Michel Zenino (cb), Arnaud Dolmen (dms), Josiah Woodson (tp, fl), Ricardo Izquierdo (sax)
Tracks
1- Quint'Up / 2- Calypsonge / 3- Ames Soeurs / 4- Not Really Blues / 5- Bréhec / 6- Room 150 / 7- Ipaninon / 8- Bass Loop / 9- J.F.